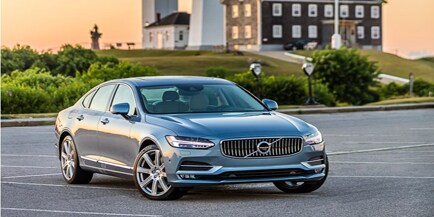 A Luxury Sedan, the Swedish Way
Calm seclusion, intuitive technology and performance without compromise - this is what the S90 excels at. Inside, jewel-like controls and an eye-catching tablet-size touch screen put you in effortless control of your drive. Luxurious materials combine with exacting craftsmanship in a clean design language that is uniquely Swedish. Every journey in the S90 is a reward in itself.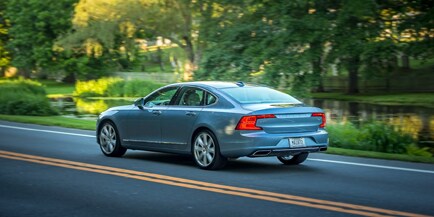 Pilot Assist
Pilot Assist semi-autonomous drive supplements Adaptive Cruise Control by adding gentle steering support to help keep the car centered in its lane and at a set speed or distance from the car in front. Pilot Assist steering support can be active up to motorway speeds. If you don't keep a hand on the steering wheel, Pilot Assist is automatically switched off. Please note: The driver is always responsible for how the car is controlled as well as for maintaining the correct distance and speed, even when Pilot Assist is being used. Semi-autonomous systems, such as Pilot Assist, are restricted in how much acceleration, braking and steering force they can apply.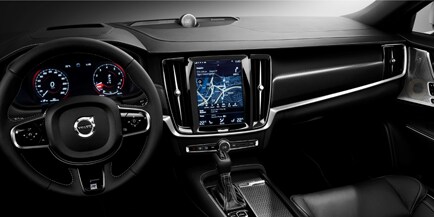 Luxurious Features
Whichever seat you're sitting in, our Premium Sound by Bowers & Wilkins audio system lets you hear the music you love as the artists intended. Revolutionary tweeter-on-top technology and a unique air-ventilated subwoofer deliver a crystal clear, powerful sound experience. With our Volvo On Call smartphone app, you can lock or unlock your car, pre-heat or pre-cool it, or locate it in a crowded car park - no matter where you are. Volvo On Call also allows you to go online directly through your car's aerial. And in case of a roadside emergency, Volvo On Call gives you a direct line to our team of trained Crisis Managers, 24 hours a day.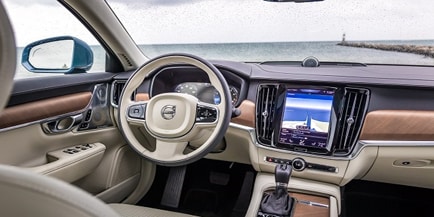 Power Without Compromise
T8 Twin Engine AWD. Our T8 Twin Engine with plug-in hybrid technology delivers an exhilarating drive with uncompromised efficiency. Combining a high-performance petrol engine and an electric motor, this powertrain allows outstanding highway performance and zero emission commuting - with all-wheel drive capability when needed. The Pure electric mode prioritizes electric drive with a zero emission driving range up to 40 km, ideal for daily commuting. In Hybrid mode both the electric motor and the petrol engine are utilized to optimize performance, fuel consumption and comfort, while the Power mode uses all available power to maximize performance. AWD mode activates full time all-wheel drive for improved traction in slippery conditions.
SELECT YOUR PERFECT CAR FROM OUR S90 LINEUP
Explore the distinguished elegance of the 2018 Volvo S90 and discover design that's built with you in mind