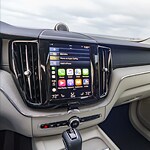 With extra space and excellent fuel efficiency, SUVs are a popular choice for Chicago shoppers who are in search of a new auto. The new Volvo XC60 excels in both of these areas, making it a top choice for consumers, especially those in search of a luxury SUV. The Volvo brand has been loyal to the desires of consumers for years, allowing them to be a top choice for upscale SUVs that boast quality and elegant design.
Some of the most desirable features are prevalent in the driver's cockpit of the Volvo XC60. Boasting comfortable contoured seats, quality Nappa leather and aluminum accents, this SUV portrays the essence of contemporary design with comfort-driven accents.
The amount of space in itself that the Volvo XC60 elicits is impressive, as well. With 63.3 cubic feet of storage space with the rear seats folded down, buyers have all the space they desire. Come in to Howard Orloff Volvo Cars to see it for yourself!