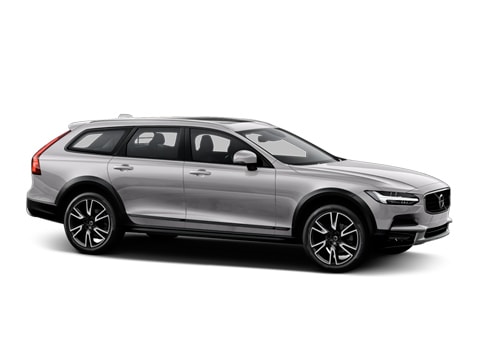 Volvo has unveiled the new 2017 V90 and V90 Cross Country, two midsized crossovers slated to arrive in Chicago early next year. Howard Orloff always carries all the latest models at the best prices - so don't hesitate to stop in or give us a call if you're itching to drive one. In the meantime, while you're anticipating the arrival of the V90 models, browse our other Volvo showroom models too. Here's what to expect from the V90s:
All-wheel drive 

A roomy interior fitting at least five passengers

 

Beautiful Swedish design

 

Eight-speed automatic

 

Four-cylinder power

 

Three modes of operation: EV, Hybrid, and Power

 
These two models could be mistaken for twins by the untrained eye, but the V90 Cross Country is a lifted version of the V90 with larger wheels that make it ride approximately 2.5 inches higher. The extra height brings the ground clearance up to an impressive 8.4 inches. That will get you through almost any rain or snowstorm the Midwest throws at us.
While the height is the main difference between the two, there are a few aesthetic differences too. The rugged V90 Cross Country has plastic black trim on its rocker panels and along the wheel arches - making the model perfect for off-roading adventures. Volvo states it perfectly when they say it's a "blend of powerful off-road capability in a most elegant, sophisticated, tailored wagon suit".
The V90 Cross Country is all the rage, but you won't want to pass by V90 without taking a long, hard look. The lower height of the wagon makes it easy to get in and out of, and to load heavy cargo into the trunk. The under floor storage compartment is convenient too, giving drivers plenty of space without the bulk of an SUV. For those who don't need the rugged capabilities, the V90 is likely the right choice.
The two models will be available in a Convenience and Luxury package, and also offer individual upgrades such as 20-inch wheels, integrated child booster cushions, and metallic paint.
No matter what your needs, Howard Orloff Volvo Cars will get you into the perfect new or pre-owned vehicle. Give us a call at 877-570-6927 to get started.