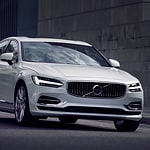 All drivers love top-performing vehicles with thrilling speeds and ease of handling. Volvo has been consistent with the development of vehicles to meet this need. All the vehicle models in the Volvo lineup are marked with stellar performance, comfort, and safety.
Whether you are looking for a sedan or an SUV, the Volvo lineup has something for everyone. Top on the Volvo Sedan lineup is the Volvo S90. This work of art is one of Volvo's best-selling sedans. This accolade is courtesy of its superior design, both inside and outside.
The S90 comes packed with top-of-the line safety and performance features that make it stand out from its peers. The S90 base model comes packed with a powerful engine. It has a turbocharged, supercharged four-cylinder engine that provides 316-hp. The S90 has enough power and torque to offer a smooth ride and responsive steering even in the most challenging terrains.